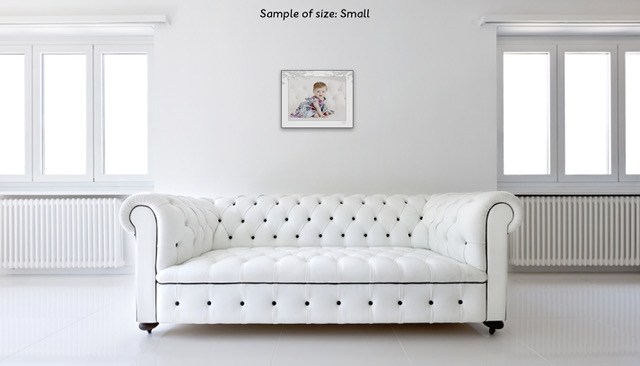 We like to do things a little differently and we want to make it as easy as possible for you to be able to own a Yaffé portrait on your wall at home.
"How big is that?"
That's a question we get asked a lot. Just how big is 20 inches? Well, let's make this a bit easier. We're not going to worry about an extra few inches here or there. So we've narrowed it down to four approximate sizes: small, medium, large and extra large.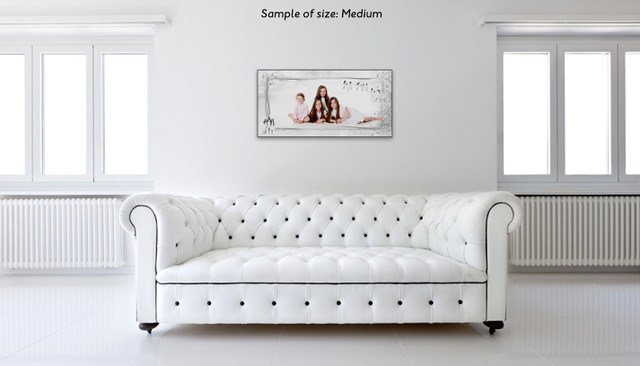 Take a look at these approximate size guides and you'll get an idea of what sort of size you're after.
You'll know if a large portrait will look right over the sofa. Maybe your much loved family portrait is destined to hang with pride over the fireplace? You might choose a medium size for that.
Each size has a few options which are detailed below, but as we've already said, don't worry about a few inches here and there, just get an approximate idea before you come back to make your choices.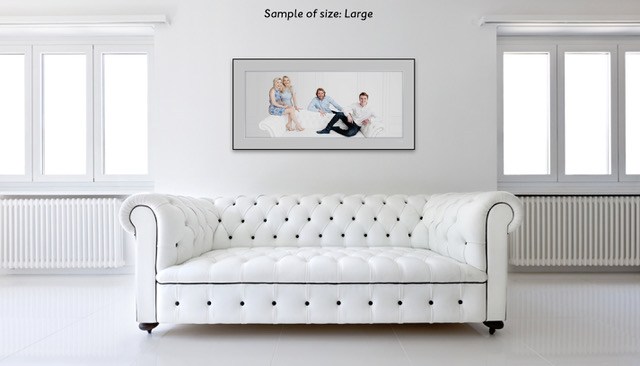 We understand how important it is to get the size just right. You don't want a portrait that's so big that it dominates your room and simply starts to take over.
Similarly, if it's too small on the wall, it's going to get lost amongst the vast emptiness of nothing! It's got to be just right, and we want to make sure you choose the right size for your home.
A handy tip is to measure the wall space you're thinking about before you arrive so at least you have an idea.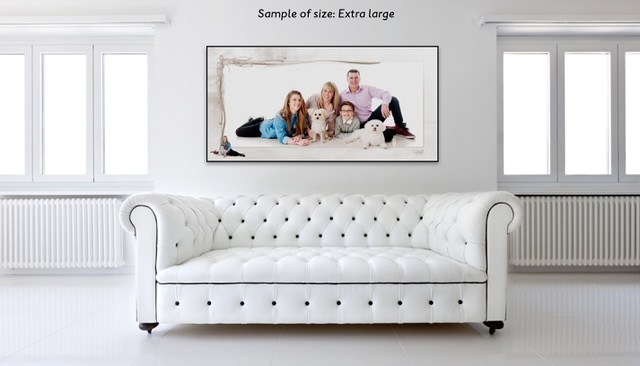 We really do want to help you in every way we can. If you send us a snap of the wall in question like the example used here, we can superimpose your finished image on the snap to show you how it would look at different sizes. That's a really handy way of ensuring it's going to be just right.
No matter what size you choose, your Yaffé portrait is going to look beautiful and will help make your house, a home. We promise!
Here's a full listing of our prices for you. We've broken them down into 'Shelf Portraits' which can be stood on a table or hung on the wall, and 'Wall Portraits' which need little explanation!
Price List
Shelf Portraits
7×5"
£150
10×8"
£250
10×10"
£350
14×11"
£500
Wall Portraits
Small
£ 750
(includes 20×10", 20×16", 20×20", 24×20", 25×25")
Medium
£ 1000
(includes 30×15", 30×24", 30×30", 35×35")
Large
£ 1500
(includes 40×20", 40×30", 40×40")
Extra large
£1750
(includes 50×25" and 60×30")