Who are we?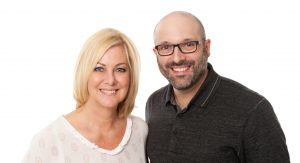 We're not old fashioned, but we recognise traditional values. Old school customer service, the way we'd expect to be looked after.  We are Adam Yaffé and Sandra Carney.  An experienced, talented and friendly duo. We have one goal in mind…. to give you the best images and a great experience to remember!
"With nearly 40 years experience between us in portrait photography, we've learnt a thing or two about what people want.  You want the best, you want a fabulous service, with integrity, courtesy and honesty.  It's the way we'd want it too!"
---
Adam.
I grew up around photography.  My Dad, Paul Yaffé, is a photographer and his Dad was one too.  I guess it's in the blood!  I recently hit my 25th year as a professional photographer, so I've seen it all before and nothing scares me!  I love what I do, in fact the days where I'm taking pictures isn't like going to work, they're like days off.  I have a lot of fun in my photo shoots and I love meeting different people from all walks of life.  Creativity is in my blood.  I see and find inspiration everywhere I go, always looking for new ideas.
When I'm not taking pictures of people, I'll usually be designing images on one of my Apple Mac computers.  I love everything Apple and tend to be a bit geeky about it.  OK, a lot geeky!  I love everything technology and always want the latest gadget.  I also love dogs and eating, although not necessarily in that order!
---
Sandra.
I have had a varied career from running a marketing department to owning a clothes business and training as a make up artist! I have worked alongside Adam under the Yaffe umbrella for the last 23 years. I'm a people person, I love our clients and take great pride in helping them choose their perfect portrait. Many clients become good friends. I'm such a girl, I love clothes, shoes, jewellery and make up. I also love eating and drinking!